Better than the Professionals
Responsible Author: Steve Wollett | Baltimore, 12/24/2014, 15:39 Time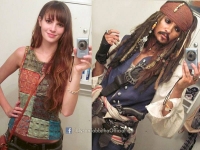 USPA NEWS -
In the world of Cosplay there are few people that can truly make a character come to life. Amongst those that can, most are professionals with vast resources at their fingertips. Alison Tabitha, a rank amateur, does what many of these professionals fail at, She creates living fantasy.
Living the gamer dream
Responsible Author: Steve Wollett | Baltimore, 12/24/2014, 02:37 Time
USPA NEWS -
Pamela Horton, artist, model, and gamer has experienced what few fans can ever achieve. She has become the very characters that she loves and is living the gamer dream. From hometown girl to the pages of Playboy, Pamela Horton transends the gamer couch to rise into the realm of gaming superstar.
| | |
| --- | --- |
| | Daren Frankish |
| | RAHMA-SOPHIA RACHDI |
| | Ruby BIRD |
| | Yasmina BEDDOU |
| | Aurangzeb Akbar |